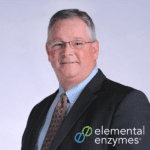 Elemental Enzymes selects Begemann to lead Board of Directors
ST. LOUIS, Mo. (October 16, 2023) — Elemental Enzymes, a St. Louis company that develops and markets sustainable solutions to aid in crop nutrient absorption and immune response, welcomes Mark Deadwyler as its new Chief Financial Officer.
Most recently, Mark served as Executive Vice President, CFO for Reconext, a leading provider of aftermarket lifecycle services for electronics; prior to that, he was Senior Vice President, CFO-Global Operations for Teva Pharmaceuticals. His background also includes 26 years with Monsanto, where he held several global finance leadership roles for the company.
Mark brings to Elemental Enzymes leadership experience in developing life-science
businesses globally. Over his career, he has been instrumental in integrating strategy, planning, analysis, valuation, negotiation, investor relations, accounting and governmental compliance.
As CFO, Mark will be responsible for enabling performance of the company's growing operations, as the company expands into new markets and countries. He will also work as a strategist, helping shape the strategy and direction of the company.
"Our executive team is looking forward to working with Mark and reaping the value his years of experience will no doubt bring throughout Elemental," said CEO and co-founder Brian Thompson, Ph.D. "The company is poised for major growth in the next several years, and Mark's knowledge will be invaluable in helping us all reach the goals we have set."
Mark holds an MBA from the University of Missouri-St. Louis and Bachelor of Science in Business Administration-Marketing from the University of Missouri-Columbia's Trulaske College of Business.
Elemental Enzymes develops and markets research-amplified, naturally occurring enzymes, peptides and biochemistries used to support plant nutrient absorption and improve fertilizer efficacy. Harnessing Mother Nature's benefits, Elemental Enzymes has developed more than 12 patented products across the globe, delivered alongside everyday grower management practices.