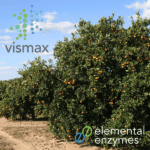 Vismax – the first of Elemental Enzymes' peptide-based products to be EPA-registered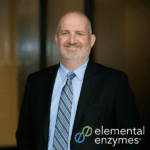 Elemental Enzymes adds Mark Deadwyler to Leadership Team as new CFO
ST. LOUIS, Mo. (October 9) — Elemental Enzymes, a St. Louis company that develops and markets sustainable solutions to aid in crop nutrient absorption and immune response, is pleased to welcome Brett Begemann as Chair of its Board of Directors, as of October 1, 2023.
In 2021, Begemann retired from Bayer Crop Science, where he spent three years as its Chief Operating Officer after Bayer acquired Monsanto. Prior to 2018, as Monsanto's President and COO, he led efforts to increase manufacturing and supply chain efficiency globally, as well as to connect farmers with solutions for better harvests. He started his career with Monsanto in 1983 in sales and marketing, later moving into executive management with titles including Executive Vice President and Chief Commercial Officer.
As Elemental Enzymes' Chair, Begemann will be responsible for ensuring the effectiveness of the Board in setting and implementing corporate direction for the Company. He will lead the Board's focus on strategic direction for the company, set Board meeting agendas, be responsible for setting high governance standards and remain available to the CEO to advise on company strategy and operations.
"I am glad to welcome Brett to the Board, and to Elemental, where we are looking forward to having a close and productive relationship to grow the company even more in the coming months and years," said Brian Thompson, Ph.D., CEO of Elemental Enzymes. "We are excited to get started!"
Begemann graduated from the University of Missouri-Columbia in 1983 with a Bachelor of Science in Agricultural Economics. He later was a recipient of the University's Alumni Association Faculty-Alumni Award and still serves as a member of the Vice Chancellor's Leadership Council. He serves on the Board of Directors for Eastman Chemical Company and has held leadership roles in other local and global agribusiness organizations. He grew up on a farm in central Missouri, and still farms in his home state.
Other members of Elemental's Board of Directors include two of the co-founders — CEO Brian Thompson, Ph.D., and Chief Science Officer Ashley Siegel, Ph.D. — Jim Zimmer, Managing Partner and co-founder of Moraine Farmland Partners, and three recently added members from investor Paine Schwartz Partners: CEO Kevin Schwartz, Managing Director Steve Bierschenk and Managing Director-Technology Stephen Padgette.
Elemental Enzymes develops and markets research-amplified, naturally occurring enzymes, peptides and biochemistries used to support plant nutrient absorption and improve fertilizer efficacy. Harnessing Mother Nature's benefits, Elemental Enzymes has developed more than 12 patented products across the globe, delivered alongside everyday grower management practices.