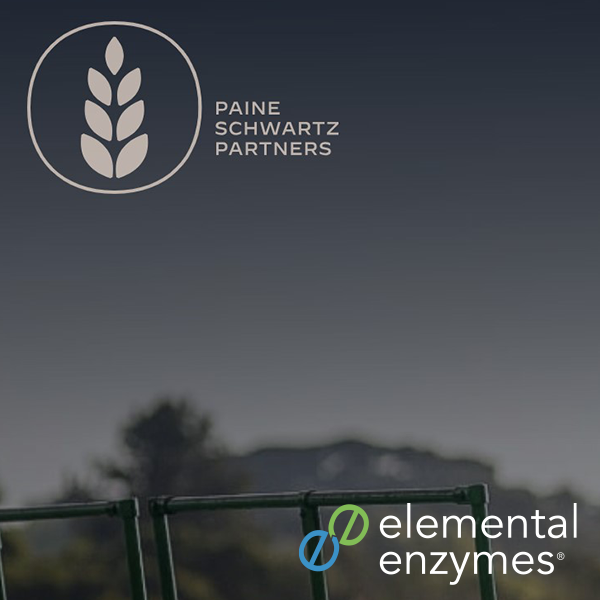 Paine Schwartz makes growth investment in Elemental Enzymes
ST. LOUIS, Mo. (September 6, 2023) – Elemental Enzymes, a St. Louis company that develops and markets sustainable solutions to aid in crop nutrient absorption and immune response, is pleased to announce the Environmental Protection Agency (EPA) has approved United States registration for Vismax®, a patented proprietary biofungicide formulated for protection in a broad range of crops.
Elemental Enzymes developed Vismax® in 2017, a naturally-occurring peptide used to control a range of pathogens that cause yield losses in a host of horticultural crops, including citrus, and field crops such as soybeans, corn, and wheat. Vismax® technology can be applied through complementary treatments as a foliar spray and is compatible with most tank mixtures for target crops, with no known phytotoxicity.
Three years ago, Nutrien Ltd. (NYSE: NTR), based in Loveland, Colo., entered into a license agreement with Elemental Enzymes to promote Vismax® technology as its biochemical pesticide product line, Aura. Aura is proven effective against a number of fungal and bacterial diseases, notably Citrus Greening. Elemental Enzymes and Nutrien will also launch the novel immune-activating peptide on other specialty crops across the U.S.
In 2021, Corteva Agriscience (NYSE: CTVA), based in Indianapolis, Ind., gained an exclusive license to market Vismax® technology for row crops in its suite of biological products under Corteva's brand name Holzem™ biofungicide, to be positioned as complementary to the company's leading fungicide solutions. The Vismax® peptide primes the immune system of plants to help them protect against fungal diseases including Cercospora and wheat head scab.
"Vismax is the first of Elemental Enzymes' peptide-based products to be EPA-registered, and we couldn't be more pleased to see this line of products hit the market," said Brian Thompson, Ph.D, company CEO and co-founder. "We are excited to provide this novel technology to our partners, and for growers to see results against difficult-to-control bacterial and fungal diseases."
Elemental Enzymes submitted its application for registration approval to the EPA in November 2020. In addition to its use in the U.S., the company is planning partnerships to make Vismax®'s biofungicide technology available through products sold to farmers globally. Vismax® provides growers a safe, sustainable option for their fungicide application needs. Elemental Enzymes also develops and markets other research-amplified, naturally occurring enzymes and biochemistries, used to support plant nutrient absorption and improve fertilizer efficacy. Harnessing Mother Nature's benefits, Elemental Enzymes has developed more than eight patented products across the globe, delivered alongside everyday grower management practices